25 Apr

A Greater Easter

Easter is really about the death defeating work of Jesus Christ! As we know, death seeks to swallow everyone. Death is brutal and merciless. Death wants all for itself. But God loved the world so much that He gave His son Jesus to the world so that anyone who believes in Him will not die but have everlasting life! This is the heartbeat of 3:16 Church, Singapore.

Jesus defeated death on the cross by miraculously rising from the grave and hence, "Jesus is alive" is aptly the victory cry of the church. The power of death has been undone! Through Jesus' resurrection, many can now live forever in an unparalleled fashion. What a significant and powerful victory!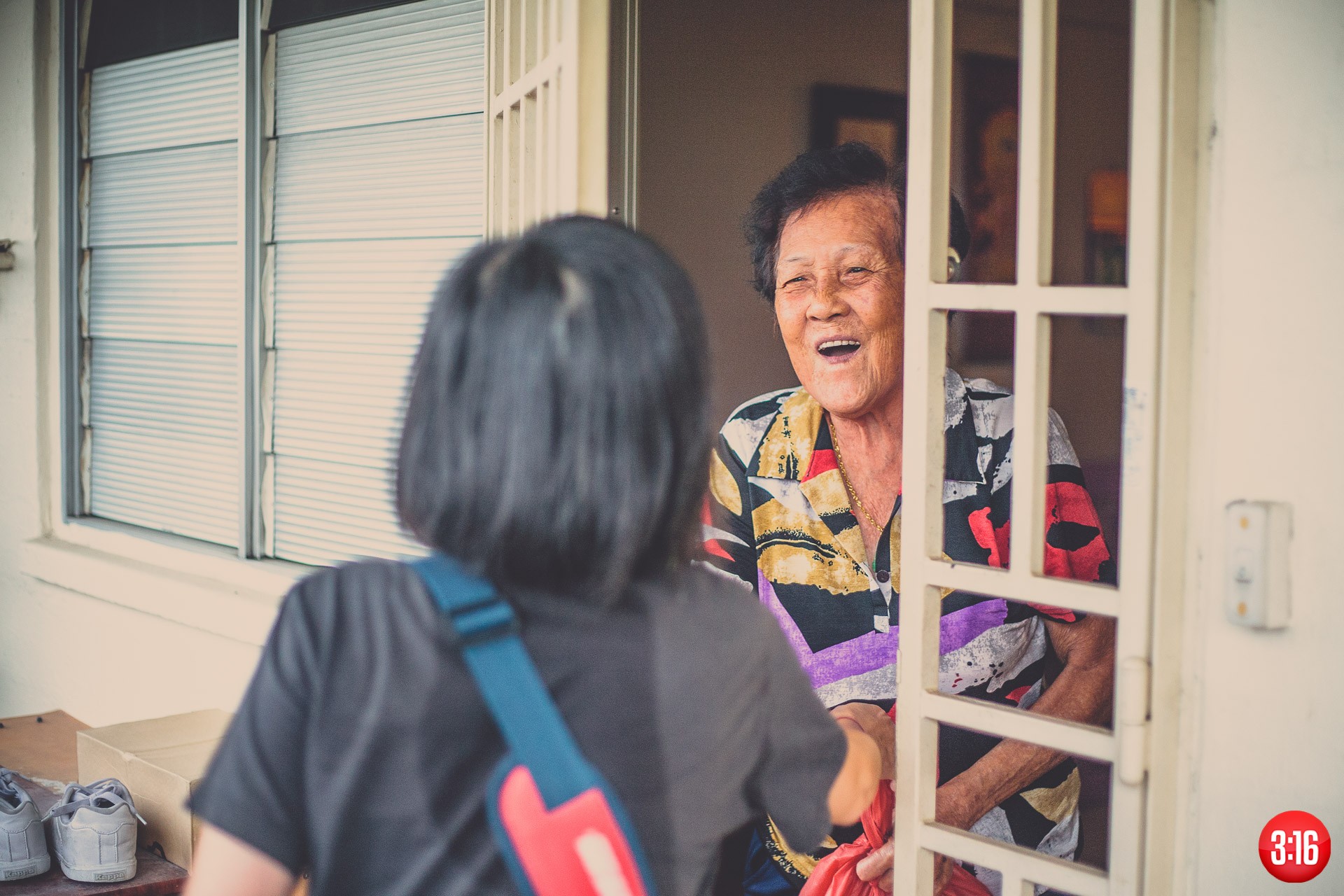 Easter 2014 has been one of the greatest moments in the history of 3:16 Church. Personally for me, it has definitely been the most rewarding and refreshing time since the church started 14 months ago. I witnessed the move of God in the hearts of the church family as many people took a courageous step into the grace of Jesus.
This Easter,
500 people attended our first ever movie screening at Cathay cinema
500 families in our community welcomed new friendships with 3:16 Church
100 volunteers joined us on Good Friday to bring hope and help to the needy
9 people responded to the invitation to be baptised
20 new guests joined us to celebrate Resurrection Sunday
Over Good Friday, our volunteers headed out to befriend families in the Circuit Road neighbourhood. My family was privileged to visit Block 37 where we met with Uncle Robert Lee and his son Eric. Uncle Robert's life is truly inspirational. He is 82 years old; he lost the use of one leg due to diabetes and a blood condition and is now wheelchair bound. Due to some physical and mental disabilities, Eric's movement is also restricted to his bed and wheelchair. However, despite their physical constraints, seeing how Uncle Robert cares for Eric, with the help of a domestic helper is just exemplary. "Visit us anytime, we can sing karaoke together!" Uncle Robert remarked just as we took our leave, pointing to a small sound system. We left his home that day thoroughly blessed by this new found friendship.
Jesus reminded me though there may be disabled bodies around; there are no disabled spirits or souls! May Jesus protect each one and may His love cover all the homes visited! 3:16 Church desires to boast in and about the love of Jesus to everyone in Singapore.
Therefore, as it is written: "Let the one who boasts boast in the Lord." – 1 Corinthians 1:31 NIV
On Easter Sunday, together with many other churches alike in Singapore, 3:16 Church powerfully declared the raw message of God' love to our friends and families. The act of baptism gave a great opportunity for people to declare the love of God in his/her personal life. With this revelation, we celebrated the baptisms and testimonies of Max, Sue, Dante, Lactera, Leonard, Iris, Samuel, Joseph and Cheryl. What an awesome way to celebrate Easter!
We hope you will continue to join us in our journey to ignite our world with God's overwhelming love. Biblically, we know that after Easter came Pentecost which led to the start of a mighty revival and movement of love that spread globally. We are excited to see what God is going to do next; you too can join us and be part of God's big movement!
Dear Heavenly Father,
Thank you for sending Your son Jesus to die for our sins. We praise You for sending Your Holy Spirit to enable us to live out our calling! We give thanks for an awesome Easter and for using 3:16 Church in this special island called Singapore, the Lion-City. May the roar and love of Jesus, the Lion of Judah be heard and seen throughout this country. We pray that 3:16 Church will garner greater momentum and critical mass as we reach out to people with the love of Jesus. Bless everyone who reads this note and may Your Spirit deposit what You want in our hearts. Hallelujah!
We pray in Jesus' name!
Amen.
Ian Toh
Lead Pastor
3:16 Church, Singapore
Pastor Ian's announcement on 3:16 Church's new measures as Singapore fights the coronavirus (Covid-1...