24 Oct

Take A Seat

We have had quite the journey. Our 3:16 story started with 20 of us in a 4-room flat in Shunfu Estate. In this small space, we shared God-sized dreams to take ground and win big for the kingdom of God. We decided that we would be unapologetic about our mission to change our world for the glory of Jesus. Although we might be small in size, we would never be small in Spirit.

As we grew out of Shunfu, we moved into 50 MacPherson Road through a series of divine appointments. For almost 3 years, this was home. We found our footing and grew together. We started friendships and became a family. When our time here abruptly came to a close, we transited to Paya Lebar. There, an office space was transformed into a worship hall every Sunday.

When we had to move again, God led us to Victory Family Centre (VFC), who readily and willingly housed us in their state-of-the-art auditorium. Words fail to express how grateful we are to the leaders of VFC, who were kingdom-minded and lion-hearted in every way. In turn, we are determined to model such generosity: that these moments of grace become a movement to overflow God's great love.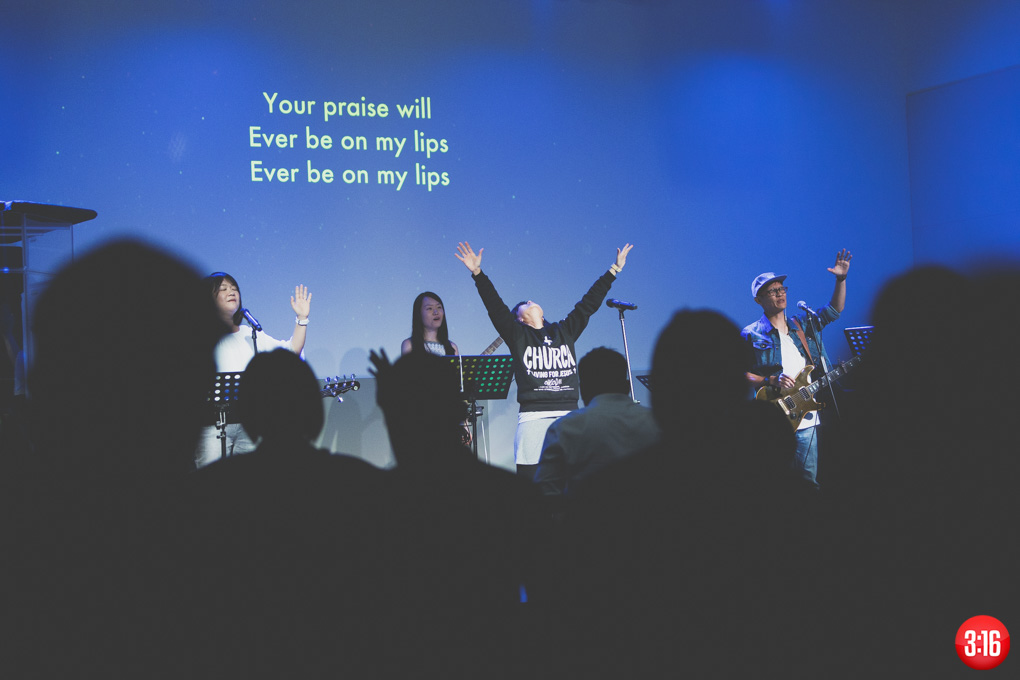 Over the last 222 Sundays, we have had front row seats to see God move. As we step foot into our new home at Eunos, we are wholly excited to see how He continues to write His story through us. The 3:16 Story is first a story about people finding hope and meaning in the grace of God. It's about strangers and enemies becoming friends and family.
Mark 3 presents one of the most significant moments in the history of humanity, when Jesus announced a new family concept to the world.
31 Then Jesus' mother and brothers arrived. Standing outside, they sent someone in to call him. 32 A crowd was sitting around him, and they told him, "Your mother and brothers are outside looking for you." 33 "Who are my mother and my brothers?" he asked. 34 Then he looked at those seated in a circle around him and said, "Here are my mother and my brothers! 35 Whoever does God's will is my brother and sister and mother." – Mark 3
In that moment, no longer would a relationship with God be based on kinship with Abraham or the 12 tribes of Israel. No longer would God's family be based on biological relations. Instead, it would be based on whoever would be with Jesus and do His will. Jesus looked at those seated in a circle around him and named them his mother, and his brothers. Jesus' invitation is still extended today. He asks, "Will you take a seat and be part of my family?"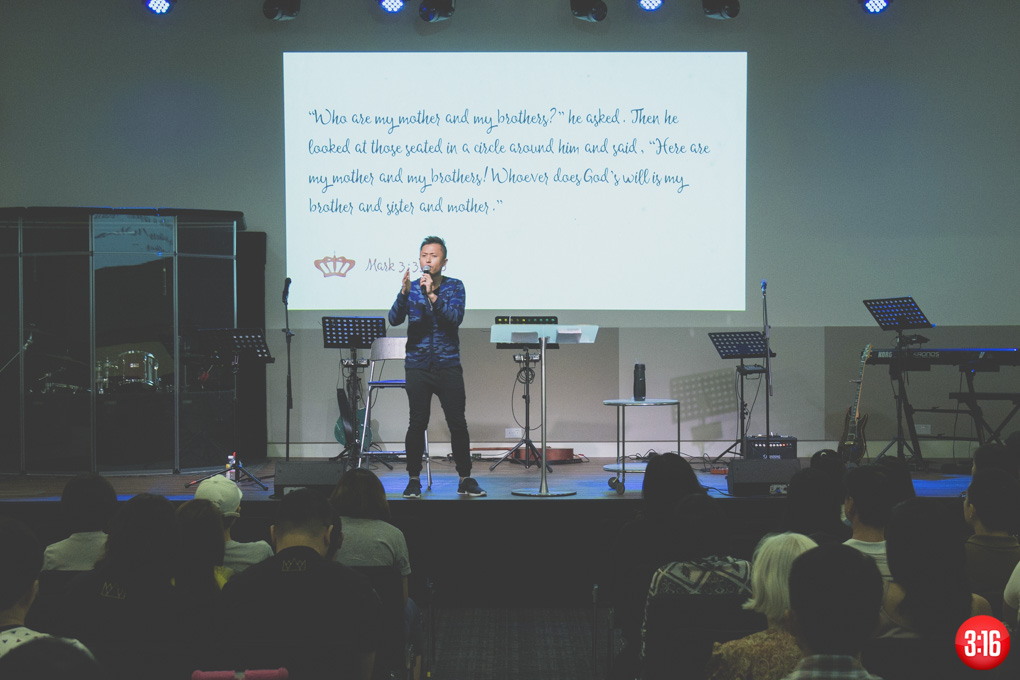 To the 3:16 family: in this new season, don't be guests in your own home. Take a seat. But I don't simply mean, please be seated. We are not just called to be with Him. We are also sent out by Him. Take a seat.
When Jesus asked, "Who are my mother and my brothers?", He was not putting his immediate family down. At first glance, it may seem sad that those supposedly closest to Jesus were left standing outside the circle. Yet He was only elevating the status of anyone whose heart is open to him. He does not want anyone to perish, but for everyone – both Gentiles and Jews – to come to repentance. He sends out those seated in a circle to serve a broken world, so that there will be no one left on the sidelines. 
I believe that His mother and brothers eventually took their seats around Jesus. In fact, one of His brothers, James, was so convinced that Jesus was the Son of God that he became a leader in the early church as seen in Acts 15, and went on to write the book of James. I believe that as we step outside our comfort circles to love, pray for, and speak to our friends and family, they will eventually take their seats on the inside.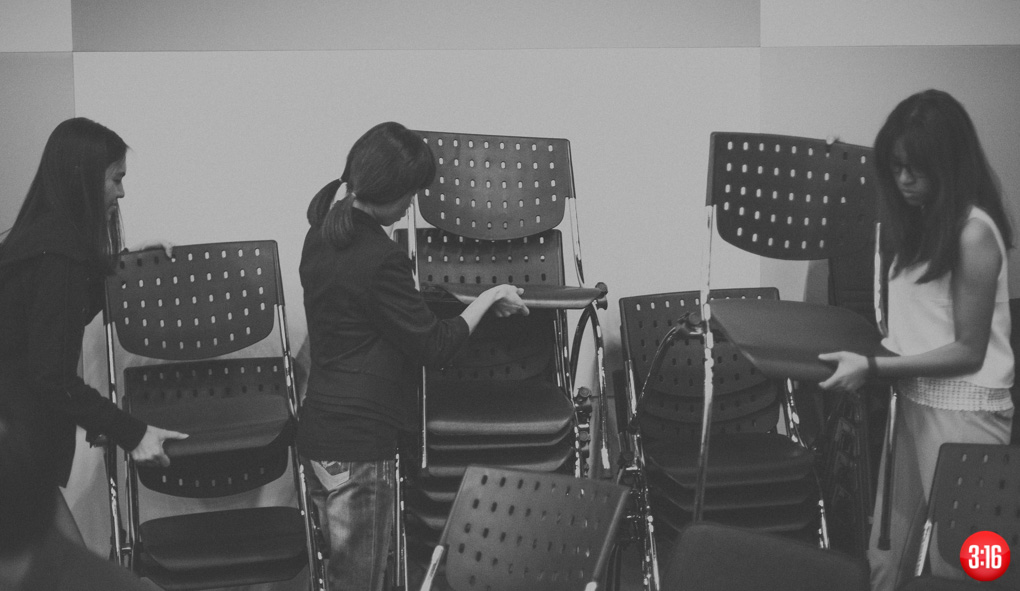 So take a seat. Put your hands to the plow, get your hands dirty and serve one another. Take a seat so that someone can find the presence of God. Let's believe that fathers, mothers, sisters and brothers who may not know Him will take a seat around Jesus. Let's believe that prodigal children are coming home. Let's believe that friends who have mocked God before will know His love and be baptised.
Now faith is the substance of things hoped for, the evidence of things not seen. – Hebrews 11:1
There might be no one seated there right now. By faith, it will be filled. Each empty seat in your hands is the substance of things hoped for and evidence of things not seen. Don't stop believing.
Pastor Norman Ng
Assistant Pastor, 3:16 Church
Pastor Ian's announcement on 3:16 Church's new measures as Singapore fights the coronavirus (Covid-19) outbreak...